Katerina Sfaellou
Producer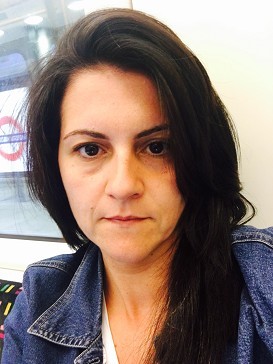 Email:
sfaellou@yahoo.com
About me: Award winning, self-motivated, highly organised Creative Producer / Director / Production Manager with international production experience. Strong communication skills, experience in leading production teams, problem solving, attention to detail, managing budgets and working to tight deadlines.
15 years experience.
Genre: Animation, Comedy, Commercials, Corporate, Current Affairs, Documentary, Drama, Drama Documentary, Magazine Programmes, Multi camera Studio, Online Content, Outside Broadcasts, Sport
Additional skills: 4K, Archive, CGI Video FX, Covid Supervisor, Extreme Filming Geographical, First Aid, Health And Safety
Other skills: CERTIFICATIONS
High Level Covid Supervisor - British Film Commission / Production Guild
Creative Industries Safety Passport – BECTU – CRISP
Mental Health First Aider – MHFA England
Emergency First Aid at Work – Lazarus Training
BOSIET with EBS & CA-EBS and Escape Chute Training – Falck Safety Services
Maritime & Coastguard Agency – Seafarer Medical Certificate (ENG 1)
Overseas experience in: Canada, Gabon, Germany, Greece, India, Iraq, Italy, Malaysia, Netherlands, Nigeria, Norway, Philippines, Poland, Singapore, South Africa, Turkey, United Kingdom.
Willing to be based in: London / South East
Languages: native / bilingual English, basic French, native / bilingual Greek
---
Credits
Funny Women: French & Saunders
Production company: Double Yellow; On-screen credit: Covid Supervisor ; Programme type: Comedy; Broadcaster: UKTV Gold.
Comedy special for UKTV Gold
---
The Split - Season 3
Production company: Sister; On-screen credit: Covid Supervisor ; Programme type: Drama; Broadcaster: BBC.
HETV Legal Drama for BBC
---
The Larkins
Production company: Objective Fiction; On-screen credit: Covid Supervisor; Programme type: Comedy; Broadcaster: ITV.
HETV Comedy Drama series for ITV
---
Manual Handling
Production company: Videotel Maritime; On-screen credit: Script Writer / Diretor; Programme type: Animation, Corporate, Documentary, Multi Media Productions.
Educational / training programme that combines animation and live action (with actors and real people). It presents the right way (HSE compliant) manual handling activities should be carried out and what is the potentail danger if they don't.
---
Marpol Annex Vi
Production company: Videotel Maritime; On-screen credit: Producer; Programme type: Corporate, Documentary, Multi Media Productions.
4-parts educational programme about MARPOL ANNEX VI, the Effects of Marine Air Pollution and an introduction to MARPOL Annex VI https://www.youtube.com/watch?v=WLqz5WMeg2A
---
Shell Lubricants - Complete Toolkit Of Services
Production company: Plastic Pictures; On-screen credit: Production Manager; Programme type: Animation, Commercials, Corporate.
Shell's complete toolkit of services helps you make informed decisions with easy-to-use digital tools, cutting-edge oil analysis and access to expert advice.
---
Journalists' Hangout Uk
Production company: Dragon Television Ltd ; On-screen credit: Line Procucer / Director; Programme type: Current Affairs, News; Broadcaster: Yanga! TV (in Sky and TVC Nigeria).
Journalists' Hangout UK (JHUK, series 1, ep. 1-60): A fresh and bold current affairs programme, examining issues, both African and global, and their impact on the continent and its people. Sharp, lively, often passionate discussion involving the best UK based journalists of African origin, visiting African journalists, politicians, filmmakers, designers, environmentalists and people from many other disciplines.
---
Our Sponsors
The PMA is sponsored by a variety of companies in the film and television industry. We have a long-standing relationship with many of them dating back to the PMA's inception in 1991.
PMA members benefit from the information and services that our sponsors can provide, while sponsors gain access to the upper echelon of Production Managers in the UK who are major purchasers for the industry.
Become a sponsor
We only have one sponsor per area of business but occasionally opportunities to become a sponsor of the PMA do arise.
Sponsors get the chance to meet our members several times a year, host parties, explain their services and write for our magazine The Bottom Line.
For more information on sponsorship, please contact us.