TWO IMPORTANT QUESTIONS
• What if every decision we made in our industry put Environmental Impact first?
• And what if it could be Easier, Quicker and Cheaper?
---
HOW?
1. Reduce our Carbon Footprint in production and personally
• 60%* of the UK Production Footprint goes on Energy: Power, Lights, Travel
NB Reducing this should be the Overriding Priority
• Sign up with a Renewable Energy supplier
• Ask all suppliers if they are signed up with a Renewable Energy supplier
Eg. Albert's Creative Energy deal with Good Energy
2. Improve Production Sustainability
• Reduce Resources
• Reduce Waste
• Recycle & Re-Use a whole lot more!
3. Use the power of Production Management:
• to encourage our suppliers to promote and discount low carbon options and to improve their own sustainable credentials
• to use research and case studies to persuade our Executives to give PMs the authority to make low carbon decisions the norm in Production
• to share great sustainable ideas within our teams – and far and wide amongst the production community.
---
Why now?
The IPCC Report Oct 2018 said:
• To keep the Planet's Temperature below 1.5 degrees of pre-Industrial Revolution levels (the bare minimum to protect the future of humanity)
• We must halve CO2 levels in 10 years - and then halve them again every decade until 'Net Zero' in 2050.
• Therefore, we must reduce our personal and industry CO2 by 10% each year, starting now in 2019!
---
Why Us?
In 2018, BAFTA's Consortium, Albert, reported …
• 3 sq metres of sea ice are lost through the emissions of just one tonne of Carbon Dioxide.
• In 2017, just 1 hour of TV Content = 13.5 tonnes of CO2.
• And the Independent Sector generated 20,000 hours of programming = 780,000 sq metres of lost sea ice
• The Carbon footprint of Content Production has doubled in 7 years.
THE PMA Green Wing was set up to share great Low Carbon and Sustainable Production ideas, so they become embedded in our systems and are the natural, first choices in all decision-making.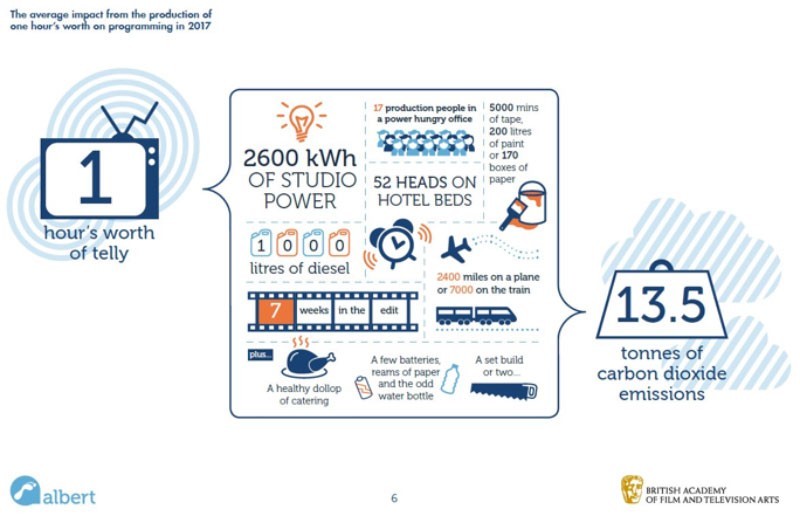 Call to Action
Albert Report 2018
Encourage all personnel and productions to:
• Switch to 100% Renewable with BAFTA's Creative Energy scheme
• Become Carbon Literate and attending training
• Go paperless
• Turn off the lights and recycle
• Investigate the sustainability credentials of your supply chain
• Normalise sustainability on screen
• Commit to collaborate with others
• Become an expert on a specific sustainability topic that interests you
• Wear your green credentials with pride
• Certify the sustainability credentials of your next production
• Calculate environmental impacts and work to reduce them
• Ensure company investments and pensions aren't propping up the fossil fuel industry
• Lastly, purchase carbon offsets
Our Sponsors
The PMA is sponsored by a variety of companies in the film and television industry. We have a long-standing relationship with many of them dating back to the PMA's inception in 1991.
PMA members benefit from the information and services that our sponsors can provide, while sponsors gain access to the upper echelon of Production Managers in the UK who are major purchasers for the industry.
Become a sponsor
We only have one sponsor per area of business but occasionally opportunities to become a sponsor of the PMA do arise.
Sponsors get the chance to meet our members several times a year, host parties, explain their services and write for our magazine The Bottom Line.
For more information on sponsorship, please contact us.