Cathy Haslam
Production Manager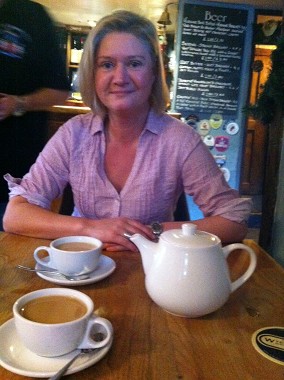 About me: Cathy started her career in documentaries, gradually working towards a specialism in arts films. She worked as a freelance production manager for 8 years before moving on to become Head of Production for Specialist Factual and Arts at ITV where she worked closely with Melvyn Bragg on The South Bank Show and all the Arts genre output including '12 Books That Changed The World', Travels in Written Britain' and 'The Adventures of English'.

In late 2010 she launched Directors Cut Productions with Melvyn Bragg, an independent production company specialising in arts and history documentaries. She is currently Managing Director and Head of Production.
---
Credits
HEAD OF PRODUCTION, SPECIALIST FACTUAL AND ARTS, ITV
Overseeing all departmental output, staffing and production
---
THE SOUTH BANK SHOW
LWT - Senior Production Manager Series 26, 27 and 28: 21x50 minute films annually (Digi Beta/Super 16mm/mini DV) Overseeing The South Bank Show, LWTs premiere Arts series.
---
HOLLYWOOD DNA
Darlow Smithson for BBC/TLC Production Manager 3x50 minute films (Digi Beta/Super16mm) Documentary series deconstructing the film business: what and who turns an initial idea for a feature film into something we see in the cinema
---
GREAT EXCAVATIONS: JOHN ROMERS HISTORY OF ARCHAEOLOGY
Agran Barton Television for Channel 4 and Southern Star Co-producer/Production Manager John Romers History of Archaeology 6X50 min docs (Digi Beta) for C4. Filmed in Egypt, Greece, Israel, Turkey, France, Germany, Italy, Austria, Denmark, Mexico and the UK. Documentary series charting the evolution of archaeology
---
DISASTER (SERIES 3)
Stone City Films for BBC/TLC Production Manager 5 x 30 min drama/docs (16mm + Beta SP ) Working on one programme Cancer in the System. Series of 30 minute drama documentaries about disasters and crisis management.
---
METROLAND
GMG Endemol for Carlton Associate Producer / Production Manager 6x30 min docs (16mm / Digi Beta) Documentary series for first time directors.
---
MODERN TIMES
BBC Documentaries 20x50 min docs (16mm/Digi Beta) Flagship BBC documentary series. Worked on 3 films in the series.
---
Our Sponsors
The PMA is sponsored by a variety of companies in the film and television industry. We have a long-standing relationship with many of them dating back to the PMA's inception in 1991.
PMA members benefit from the information and services that our sponsors can provide, while sponsors gain access to the upper echelon of Production Managers in the UK who are major purchasers for the industry.
Become a sponsor
We only have one sponsor per area of business but occasionally opportunities to become a sponsor of the PMA do arise.
Sponsors get the chance to meet our members several times a year, host parties, explain their services and write for our magazine The Bottom Line.
For more information on sponsorship, please contact us.