Richard Godfrey
Production Manager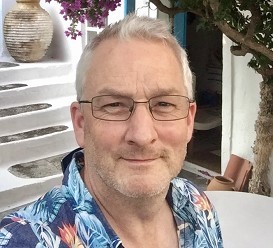 Mobile telephone:
07973549137
Email:
mokomotionfilms@icloud.com
About me: An experienced Production Manager and Line Producer, former Location Manager (25 yrs), working in all forms of television and feature film production. Happy to work on long or short term contracts in the UK or overseas
6 years experience.
Genre: Comedy, Commercials, Corporate, Documentary, Drama, Drama Documentary, Dramality, Feature Films
Additional skills: EP Budgeting, EP Scheduling, First Aid, Health And Safety
Overseas experience in: France, Jordan, Russian Federation.
Willing to be based in: Birmingham / Midlands, Bristol / South West, London / South East, Manchester / North West, Will consider any base, Overseas
Languages: Basic French, basic Greek
---
Credits
The Lost Pirate Kingdom
Production company: World Media Rights Ltd; On-screen credit: Line Producer; Programme type: Drama Documentary; Broadcaster: Netflix & ZDF.
A six-part series for Netflix and ZDF (digital marketplace) about pirates in the 17th Century. The series follows the lives of the most notorious pirates in the brief period between 1710 - 1730, known as the golden age of piracy
---
There She Goes
Production company: Merman Television; On-screen credit: Production Manager; Programme type: Comedy, Drama; Broadcaster: BBC 4.
A five-part series following the life of a family with a daughter with severe learning difficulties. Simon Pye, the writer, drew on his own experiences with his own daughter to write a brutally frank, funny and moving depiction of family life.
---
Eastenders
Production company: BBC Studios; On-screen credit: Production Manager; Programme type: Drama, Multi camera Studio; Broadcaster: BBC 1.
Continuing series drama, shot in studio, on a back-lot and on location.
---
Next Week's News With Deborah Frances White
Production company: Merman Television; On-screen credit: Production Manager; Programme type: Comedy, Factual Entertainment, Magazine Programmes, Multi camera Studio; Broadcaster: Channel 4 (not for transmission pilot).
A pilot for a Channel 4 late-night comedy news series. NWNwDFW wants to investigate news stories and influence next week's news.
---
Our Sponsors
The PMA is sponsored by a variety of companies in the film and television industry. We have a long-standing relationship with many of them dating back to the PMA's inception in 1991.
PMA members benefit from the information and services that our sponsors can provide, while sponsors gain access to the upper echelon of Production Managers in the UK who are major purchasers for the industry.
Become a sponsor
We only have one sponsor per area of business but occasionally opportunities to become a sponsor of the PMA do arise.
Sponsors get the chance to meet our members several times a year, host parties, explain their services and write for our magazine The Bottom Line.
For more information on sponsorship, please contact us.